Behind the guards, the blast doors and down corridors of reinforced concrete, sit the encrypted computer servers -- connected to nothing -- that hold keys to a vast digital fortune.

Argentine entrepreneur Wences Casares has spent the past several years persuading Silicon Valley millionaires and billionaires that Bitcoin is the global currency of the future, that they need to buy some, and that he's the man to safeguard it. His startup, Xapo, has built a network of underground vaults on five continents, including one in a decommissioned Swiss military bunker.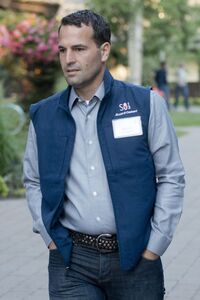 Wences Casares

Photographer: Daniel Acker/Bloomberg

In the rarefied world of wealth management, Xapo is known for a client list studded with family offices, and for occasionally letting a journalist peekinto a stronghold to write about its security. But one secret has proven elusive: how much digital cash does it really hold?

Two Xapo clients said it houses roughly $10 billion of Bitcoin. Another person close to the venture called the figure an accurate approximation. Bitcoin's price, after all, is hardly steady.

'Patient Zero'
Even in the colorful world of crypto the cache is remarkable -- amounting to about 7 percent of the global Bitcoin supply. It would mean Xapo, just 4 years old, has more "deposits" than 98 percent of the roughly 5,670 banks in the U.S. But as a custodian it's regulated differently.

The Swiss subsidiary is overseen by the self-regulating Financial Services Standards Association, which audits members to ensure they comply with anti-money-laundering rules.

Xapo serves U.S. customers through a Delaware corporation that's registered with the U.S. Treasury Department's Financial Crimes Enforcement Network and is licensed in several states.

The outsize holdings underscore the faith that Casares -- a serial entrepreneur nicknamed "Patient Zero" for stirring Silicon Valley's interest in Bitcoin -- has garnered among his acolytes and at major crypto investment firms, such as Grayscale and CoinShares.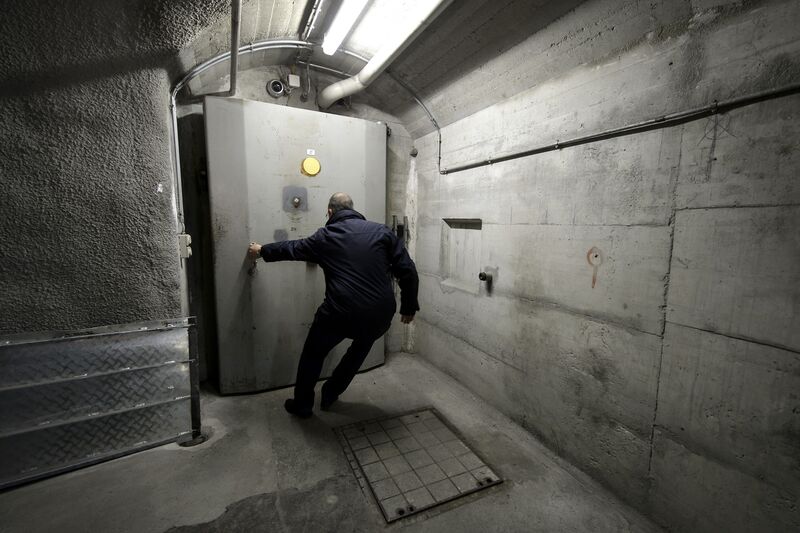 Xapo has a network of underground vaults on five continents.Photographer: Fabrice Coffrini/AFP via Getty Images"Everyone who isn't keeping keys themselves is keeping them with Xapo," said Ryan Radloff of CoinShares, which has more than $500 million of Bitcoin stored at Xapo. "You couldn't pay me to keep it with a bank."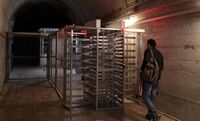 Xapo's vault in SwitzerlandSource: Xapo

See also: Buffett, Gates are latest Bitcoin critics, halting $10,000 Push

Xapo's billionaire backers include LinkedIn Corp. co-founder Reid Hoffmanand former Wall Street trader Mike Novogratz, who's in the process of setting up his own cryptocurrency merchant bank.

Their bet is that Bitcoin is here to stay, and so is its biggest scourge, theft.The first rule of owning Bitcoin is to securely keep your private key -- the code that lets you spend your coins.

If thieves get it, they can loot your holdings in an instant, with no hope of recovery. Putting keys on a device connected to the Internet is both convenient and perilous: Hackers have proven adept at obtaining them from afar.

The most popular alternative is called cold storage, keeping the key in an offline device such as a thumb drive. But risks remain: Hackers have also proven adept at setting traps on computers to access cold-storage devices the moment they're online.

More traditional criminals have committed home invasions and kidnappings. Some Bitcoin tycoons have resorted to hiding their identities, fortifying their homes and studying self-defense.

Trading Desk
Xapo's solution is to bury a cold-storage device in a mountainside and layer on electronic safeguards.

"They're the first folks who recognized custodial and security functions would be key," said Hoffman, whose venture capital firm Greylock Partners led a $20 million investment in Xapo in 2014, a couple of years after Casares persuaded him to buy his first Bitcoin.

"He made the pitch in the morning and in the afternoon I called him with an offer."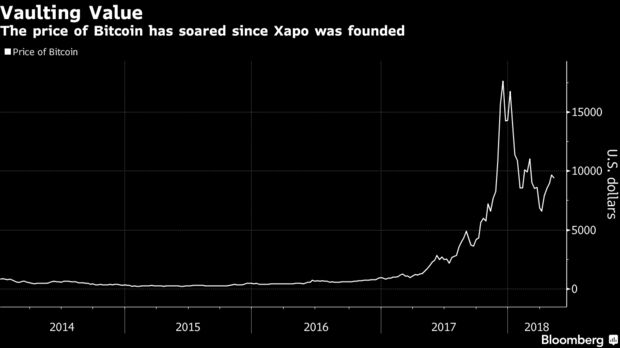 At Xapo, retrieving Bitcoin from the vault takes about two days. The company verifies a client's identity and authenticates the request before manually signing the transactions with private keys from multiple vault locations.

Approval from three separate vaults is required for any transactions to be authorized. The company also offers customers a trading desk to buy and sell Bitcoin and created the first Bitcoin debit card to spend it.Casares, 44, declined to comment for this story.

After a flurry of publicity at Xapo's launch, he has drawn big audiences at crypto conferences but largely shunned media interviews.

Read more: 'Cryptolandia' blockchain pioneers take root in hipster Brooklyn

Yet his persuasiveness is legendary. His evangelizing of Bitcoin is so pervasive in Silicon Valley that when Hoffman asked his family office to buy some, his banker asked when he'd spoken to Casares. Xapo's advisers now include former U.S. Treasury Secretary Larry Summers, ex-Citigroup Inc.

Chief Executive Officer John Reed and Visa International founder Dee Hock.Such salesmanship has been critical to Xapo's success. First Block Capital, Canada's first fully registered crypto firm, picked Xapo as its custodian after months of due diligence, including touring the Swiss vault.

"Every part of their DNA is geared to security," said Sean Clark, First Block's founder, who noted the vault's fingerprint scanners were equipped with a pulse reader to prevent amputated hands from being used.

"Whenever we make big transfers they FaceTime us, we have duress words, if it's big enough they'll fly out to see us.

"Xapo is doubling down on its pursuit of institutional clients, with President Ted Rogers enlisting Peter Najarian, a veteran of emerging-market trading at UBS Group AG and Royal Bank of Scotland Group Plc, to oversee outreach to investors including pension funds, private banks, assets managers, family offices and hedge funds.

'Tidal Wave'
The perceived lack of an institutional-grade custodial solution for Bitcoin has been one of the sticking points for many money managers looking to try the asset class. Xapo says its already offering precisely that solution.

If it persuades them of its merits, the implications for Bitcoin would be profound."A fraction of that kind of institutional money flowing into the space would be a tidal wave," Najarian said.

Read more: Tracking the Crypto Bulls and Bears

Casares has made acceptance of Bitcoin his life's mission. Born to sheep ranchers in Argentina's remote Patagonia region, he experienced the impact of inflation throughout his youth.

That drove him to build a series of fintech startups that made him millions before he encountered Bitcoin.

He sold 75 percent of Patagon, a Latin American financial-services website, for $529 million in 2000 and digital wallet startup Lemon for $43 million 13 years later to focus on crypto.

By then, he was already a big holder of Bitcoin."I am personally allocating a percentage of my net worth to this that is borderline irresponsible because I believe in it so much," Casares told Lemon board member Eric O'Brien, according to "Digital Gold," a book by Nathaniel Popper. Two years ago, he joined the board of PayPal Holdings Inc.

'High Hurdle'
Bitcoin's meteoric rise in recent years has spurred the proliferation of rival currencies, such as Ethereum and Ripple that also have multibillion-dollar valuations. Yet Xapo only safeguards Bitcoin because of Casares's belief that it alone will succeed.

Such dogmatism has seen Xapo turn away customers looking to store rival currencies.Other purists say ventures such as Xapo have no place in the Bitcoin ecosystem, slowing down what's supposed to be a seamless transfer.Xapo's top brass wrestle with that paradox, too.

"It's a subject we discuss a lot, and we believe Bitcoin won't reach the mainstream if people have to hold their own private keys," Rogers said. "It's a pretty high hurdle technically to be your own bank with lots of security."

— With assistance by Yalman OnaranHave a confidential news tip? Get in touch with our reporters.

Before it's here, it's on the Bloomberg Terminal. LEARN MORE