By Chris Foxx & Leo Kelion
Technology reporters

Kodak is to rent out Bitcoin mining rigs to the public 

Shares in photo firm Eastman Kodak soared nearly 120% after it revealed plans to mint its own crypto-currency, the KodakCoin.The US firm said it was teaming up with London-based Wenn Media Group to carry out the initial coin offering (ICO).


It is part of a blockchain-based initiative to help photographers control their image rights. 
Kodak also detailed plans to install rows of Bitcoin mining rigs at its headquarters in Rochester, New York.Details of this second scheme - which is being branded the Kodak KashMiner - were outlined at the CES tech show in Las Vegas.Customers will pay up-front to rent mining capacity.
Kodak is the latest in a series of companies to see its value jump after revealing plans for blockchain-related activity. "This is a phenomenon we saw back during the dot com days in the late 1990s where traditional companies would mention some kind of internet strategy and their stock price would jump up," commented Garrick Hileman from the University of Cambridge.
"When you see stock prices moving like this it does appear to be troubling - it's hard to say if there's a bubble but it certainly is indicative of a frothy investment market."
Coin creation
Kodak was famously slow to join the digital revolution, and its hesitation to leave behind its film heritage cost the company its market.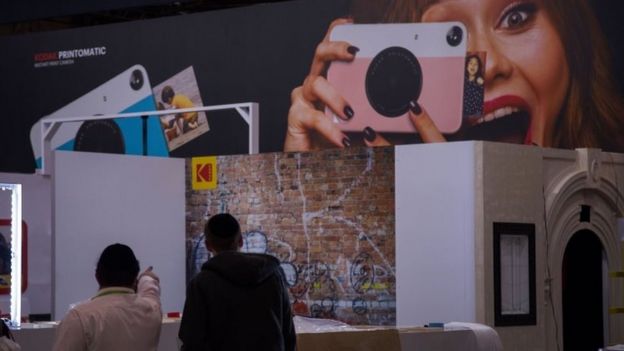 Image copyright
GETTY IMAGES 



Kodak now embraces digital photography but was initially wary of the format
Since its collapse in 2012, Kodak has licensed its brand to a variety of manufacturers, with the mark appearing on batteries, printers, drones, tablet computers and digital cameras.The KashMiner operation will be run by Spotlite, a licensee that had previously teamed up with Kodak to use its brand to market LED lights.
Mining involves carrying out processor-intensive tasks to solve complicated mathematical problems in order to verify crypto-currency transactions.Any Bitcoins generated by Kodak KashMiner will be shared between the customer and the business.
Each of the mining rig boxes - which include computer processors and fans to keep them cool - will use about the same amount of electricity as running a hairdryer around the clock.But the scheme will be able to take advantage of Kodak's on-site power generating plant, which has had spare capacity since Kodak's heyday.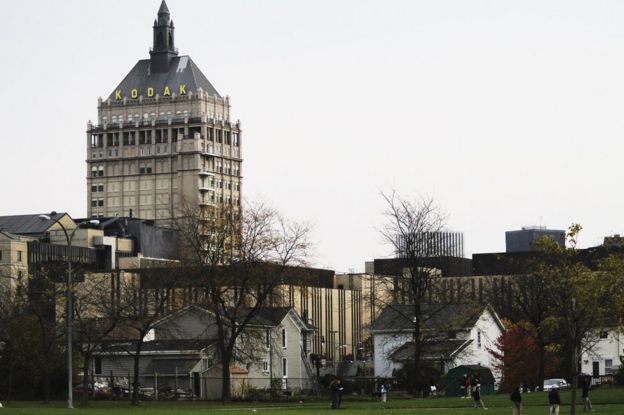 Image copyright
GETTY IMAGES



Kodak's Bitcoin mining operation will be based at its Rochester headquarters
The company says it can power each rig for four cents per kilowatt hour, which is significantly cheaper than running a rig at home.At Bitcoin's current value, an up-front investment of $4,000 (£2,954) for 24 months of mining could earn a profit of $500 a month, Spotlite's Halston Mikail told the BBC.
But anybody hoping to join the gamble would have to wait, as capacity is already sold out, Mr Mikail added.
"At this time we have 80 miners, and we expect another 300 to arrive shortly. There is a big pile-up of demand," he said.
Bitcoin is notoriously volatile and some analysts fear its value could crash, resulting in a loss for those who had paid up-front for mining capacity.
But Mr Mikail said the rigs could be put to work on other tasks if Bitcoin faltered."Bitcoin could be a bubble. But the blockchain industry is not a bubble," he said."It's a solid platform built on mathematics and it will survive."
Kodak currency
Kodak's other initiative, the KodakCoin, is being created as part of an effort to build a global ledger of picture rights ownership that photographers can add their work to.
Associated KodakOne software will be used to crawl the web and find pictures that have been used without permission.The company said it would then "manage the licensing process," so the photographer can be paid, in KodakCoin.
"Kodak has always sought to democratise photography and make licensing fair to artists," said Kodak chief executive Jeff Clarke."These technologies give the photography community an innovative and easy way to do just that."The company's shares traded more than 130% above their opening price after the announcement before closing the day 119.4% higher.
But one expert had doubts."Storing the information in a blockchain doesn't protect your copyright any more than copyright law already does," commented David Gerard, author of Attack of the 50ft Blockchain.
"Notice how they're marketing it: they state a problem, then say the blockchain can solve it. But there's no mechanism by which the blockchain could do that."This doesn't do anything that signing up for Shutterstock or Getty Images wouldn't.
"Even so, some think Kodak will not be the last household name to associate itself with an ICO."I expect we are going to see more major brands releasing their own tokens and currencies to support various products and services," commented Mr Hileman.
"It's something many big companies are thinking very hard about."
Follow the BBC team at CES via this Twitter list
Did You Know About This? 
You can curate a Personal Blockchain Page right here on Blockchain Company ( BC ) like these 2 great user examples here:
http://www.blockchaincompany.info/Paula
http://www.blockchaincompany.info/Francisco
Share your blockchain page with your employer, colleagues and friends. It demonstrates your professional awareness and competency of this revolutionary paradigm called the blockchain changing our world. It's free if you are a consumer user to curate on BC. Just 
Create your Account here
 in less than 3 mins! 

Or Click " Create Account " above in the upper right corner. Instructions how to curate your blockchain page from information you discover on BC, is sent in your email after you sign up, so read it. It takes only a few minutes to curate your blockchain page. You can then track and share all the content you love or care about to enhance your knowledge of the blockchain and cryptocurrencies in general.

You can send message over our network, invite friends, your employer and colleagues to follow your Blockchain Page too! You might still be able to capture your ' first name " as a unique url for your blockchain page too! Like : http://www.blockchaincompany.info/robert We recommend you do this sooner as easy memorable BC urls will get snapped up quickly.Going forward, you may also be entitled to free cryptocurrency tokens through airdrops with our partners and our own utility tokens. You may also get unique offers and discounts at any time in the future, once you are a user on our BC platform. 

Blockchain is the Internet of Value... 
you need to start participating today and be part of it!