Technically, Bitcoin was worth less than 10 cents per bitcoin upon its inception in 2009. The cryptocurrency has risen steadily since then and is now worth around $6000 per Bitcoin. This is the most remarkable appreciation of the value and has created many millionaires over the last eight years.

Here are the top ten people/institutions that held a large amount of Bitcoins over the time:




1. Satoshi Nakamoto


The creator of Bitcoin, who hides behind the moniker Satoshi Nakamoto, remains the major holder of bitcoins. The number of bitcoins that Nakamoto owns today is estimated at around 1.1 million, based on the early mining that he did. This is the equivalent of about $6 billion at today's exchange rate of 1BTC to 6,098 USD. At least Nakamoto has never touched most of his bitcoins, and neither converted them into real-world currencies nor used them for any other purpose. If he were to sell his entire stash, the value of Bitcoin could plummet in an instant.


2. Bulgaria


Bulgaria is currently sitting on one of the biggest stashes of Bitcoin in the world. How did the European nation come into the possession of this enormous sum of money? A crackdown on organized crime by the Bulgarian law enforcement in May 2017 resulted in the seizure of a stash of 213,519 Bitcoins, enough to pay off a quarter of the country's national debt.
According to Bulgarian authorities, the criminals used their technical prowess to circumvent taxes. As of June 2018, the virtual coins would be worth more than $1.2 billion. The Bulgarian government has declined to comment on the status of the coins.
3. BitFinex


BitFinex, a crypto exchange, has one of the largest bitcoin wallets with 163,133.38 BTC that are worth approximately $1 billion at the current price of $6,098.24 per bitcoin. The coins are believed to be kept in a cold wallet to protect them from cyber hacks, unauthorized access and other vulnerabilities that a system connected to the internet is prone to.


4. The FBI
The FBI is one of the largest renowned holders of Bitcoin. In September 2013, they brought down Silk Road, the infamous dark web drug bazaar, and seized 144,000 Bitcoin owned by the site's operator Ross Ulbricht, better known as, "Dread Pirate Roberts". Ulbricht made critical blunders that allowed investigators to locate the site and link him to it.
Users of Silk Road are said to have traded around 9.5 million bitcoins since Ulbricht launched the site in 2011. Even thought the FBI sold a large amount of their Bitcoin holdings or even all, the FBI worth mentioned as they had a fortune in Bitcoin at some point. A large portion of the Bitcoins seized and sold went to Barry Silbert.
5. The Winklevoss Twins


Tyler Winklevoss and Cameron Winklevoss were among the first Bitcoin billionaires. The duo had first gained popularity when they sued the Facebook C.E.O. Mark Zuckerberg for allegedly stealing the idea of creating Facebook from them. They were contacted by Zuckerberg to develop the ConnectU site, which was to become Facebook later on.

They used $11 million of the $65 million cash compensation they received from the legal dispute with Zuckerberg to purchase 1.5 million Bitcoins in 2013. Back then, one Bitcoin traded at $120. That investment has increased more than 20000% since then.The twins allegedly own around 1 percent of all Bitcoin in circulation.
Their combined net worth is approximately 400 million. They created the Windex, funded several bitcoin-related ventures and invested $1.5 million in BitInstant.
6. Garvin Andresen
Although bitcoin is the brainchild of Satoshi Nakamoto, Garvin Andresen is credited as the person who made it what it is today. Garvin is one of the people who has been suspected to be Satoshi, a claim he denies. Rather, he says that he had a close relationship with the anonymous cryptographer for many years. The real Satoshi Nakamoto picked him as his successor in late 2010.

Garvin became the chief developer of the open source code that determines how Bitcoin operates – and whether it can survive. He was once paid over $200,000 in Bitcoin by the Bitcoin Foundation for his contributions. He had already cashed out multiple times.


7. Roger Ver
Roger Ver, otherwise known as Bitcoin Jesus, is one of the first Bitcoin billionaires and believed to hold or held at least 100,000 bitcoins. The renowned libertarian allegedly dropped out of college to focus on his bitcoin-related projects. Unlike other crypto billionaires out there who are throwing their cash in the typical private Islands or luxury jets, Ver's dream is to establish his own libertarian nation where every individual is the absolute owner of their own life and are free to do whatever they wish with their person or property.

The controversial bitcoin evangelist renounced his U.S. citizenship in 2014 and relocated permanently to a small Caribbean Island.



Roger Ver

✔

@rogerkverCryptography is the ultimate form of nonviolent direct action.4:49 PM - Jul 5, 2018
Twitter Ads info and privacy
8. Barry Silbert
 

Silbert is a venture capitalist and founder of Digital Currency Group. He was an early adopter of Bitcoin. He purportedly walked away with an eye-watering 48,000 Bitcoins in an auction held by the U.S. Marshals Service in 2014. The US government had confiscated much of the crypto coins from Ross Ulbricht, the alleged operator of the dark web marketplace for drugs and other illegal products.

Bitcoin was then worth $350, which means Silbert's coins have skyrocketed in value from $16.8 million to $288 million.


9. Charlie Shrem
Charlie Shrem is no doubt one of the most controversial Bitcoin millionaires. He invested in a large quantity of Bitcoin in the early days of the cryptocurrency. Shrem was also an active member of the Bitcoin Foundation and founded BitInstant when he was just 22 years old. By the end of December 2014, Shrem had been found guilty of money laundering and received a two-year prison sentence.

After his release from federal custody, he unveiled a startup called Intellisys Capital, a company that sells investment portfolios in blockchain companies.
View image on Twitter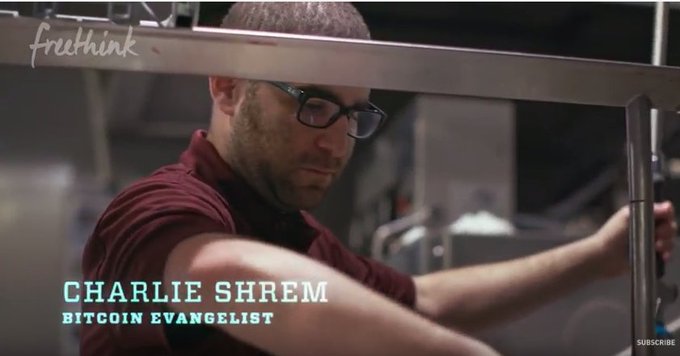 Charlie Shrem

✔

@CharlieShremWatch me go from CEO to Dishwasher in "Disrupting Money" https://youtu.be/pUCJQLpy8ms 10:48 PM - Feb 20, 2017
Twitter Ads info and privacy
Although he has not revealed precisely how many bitcoins he owns, he reportedly purchased a few thousands back when they were worth a few hundred. Those would be worth millions now.
10. Tony Gallippi


A famous business magnate Tony Gallippi is also believed to be one of the big holders of bitcoins. He is the brain behind BitPay, one of the most popular Bitcoin payment service providers in the world. The company was launched in May 2011 and processes over one million dollars per day. Bitpay is also one of the companies to sign contracts with major companies including Microsoft, Dell, TigerDirect, and Newegg. By 2014, the company had employed approximately 100 people.


Conclusion
It is estimated that the top 1000 bitcoin addresses own approximately 35% of the total bitcoin in circulation. There are also thousands of individuals who hold large stashes of bitcoin but have chosen to remain anonymous.