The demand for blockchain engineers or software developers has continued to skyrocket over the past year and salaries for those positions are growing in lockstep.

The median salary for a blockchain developer is now $127,000, with experienced individuals commanding upwards of $172,000 when they move to new organizations, according to Janco Associates, a management consulting firm that conducts regular salary surveys.

[ Read about the 2018 Best Places to Work in IT ]

"ERP and Blockchain jobs are in great demand. Individuals can look forward to salaries continuing to increase," Janco CEO Victor Janulaitis said via email.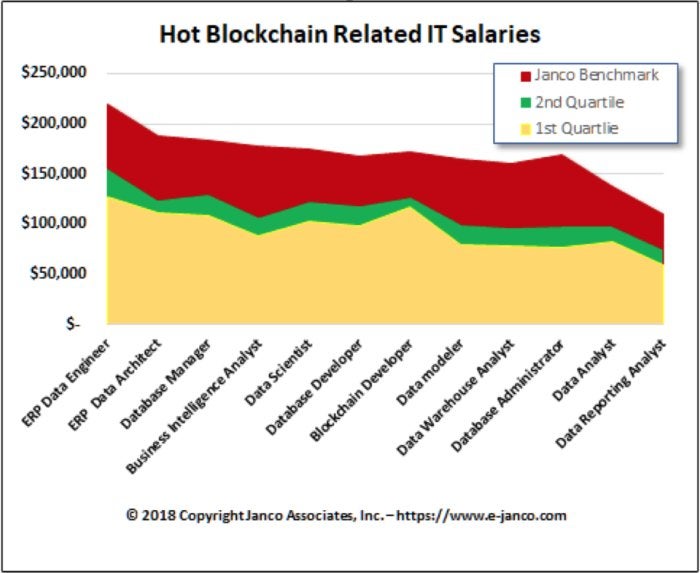 Janco Associates

Hired, a job recruitment firm, placed the salary for blockchain engineers even higher than Janco, saying they can command between $150,000 and $175,000 a year; those jobs are now on par with developers of artificial intelligence (AI).

By comparison, software engineers earn an average of $137,000, according to Hired CEO Mehul Patel.

"Since launching blockchain as an expertise on our platform in late 2017, we have witnessed demand for blockchain engineers increase 400%," Patel said via email.

"Interestingly, blockchain engineer has not solidified itself as a standalone job title quite yet; instead, blockchain is increasingly being included as an area of expertise for back-end, solutions architects and machine-learning engineers.

"Blockchain, Patel said, is poised to transform everything from how people verify their identities to how money is transferred, and so is expected to have longevity as a career option.

[ Looking to upgrade your career in tech? This comprehensive online course teaches you how. ]

"Combine its immense potential with the fact that it's a new and growing field, and I can see the demand for these roles remaining high for the foreseeable future," Patel said.

A recent survey by HIred found IT professionals are increasingly looking for a position that is challenging — with 64% indicating they'd leave their job if another one offered new challenges and problems to solve. Career positions in AI/machine learning, devops and blockchain will continue to be on the cutting edge of technology, and a priority for hiring needs, Patel said.

For those hiring and looking to provide competitive offers to candidates with blockchain or other in-demand skill sets, the option to work remotely is a good incentive.

"In fact, we conducted a recent survey that found that over half of tech talent are interested in working 100% remotely," Patel said.

"Offering remote work to fill the demand for blockchain and AI engineers might meet the talent demand for these future-focused companies.

"Over the past 12 months, total job openings for blockchain skills have grown to 12,006, according to job data analytics firm Burning Glass Technologies. That represents a growth rate of 316% over that time frame. In June, Burning Glass  reported 5,743 blockchain developer jobs.

The median advertised salary for Software Developers requiring blockchain is $125,000 to $150,000, according to Burning Glass.

Freelance job site, Upwork, said demand for blockchain-based positions has increased on average 96% quarter-to-quarter in terms of job postings; it sees  blockchain development as the hottest skill in the freelance job market today.

Skills gap translates into higher pay
People with experience using specific blockchain iterations such as Solidity and Hyperledger Composer are in even higher demand - and that demand is increasing steadily, said Eric Piscini, CEO of Citizens Reserve and formerly a principal in the technology and banking practices at Deloitte Consulting LLP.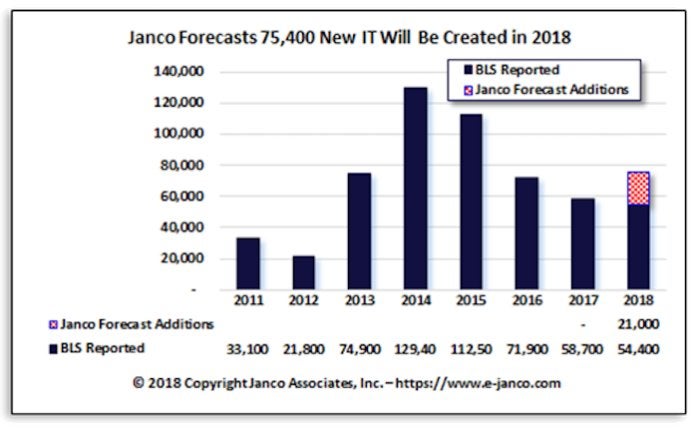 Janco Associates

"This is the number one thing I have in mind when I wake up in the morning: 'Where will I find more engineers to join the team,'" he said in an earlier interview with Computerworld.In addition to postings at established companies such as Deloitte, 2,977 blockchain startups have posted 2,043 jobs, according to AngelList, a website for investors and job-seekers looking for work at startups.

Even as companies are posting a plethora of blockchain jobs, there is a dearth of talent to fill them.

According to Upwork's latest figures (posted in June), 53% of hiring managers surveyed cite access to skills as their biggest hiring challenge, and the majority (59%) are already utilizing flexible talent.

The top blockchain jobs available today include entry-level and internship positions;  blockchain engineers; blockchain project managers; and blockchain developers. The best career opportunities are now in financial services, government agencies and at tech companies; all are seeking ways blockchain can create new efficiencies.

Other blockchain positions include quality engineers and legal consultants or attorneys, and blockchain web designers. Large organizations are also planning to beef up their middle management as they focus on Big Data, blockchain and smartphone and tablet connectivity, according to Janco.

Where to get blockchain skills
Most who choose to add blockchain to their skillset or seek a career as blockchain developers are typically versed in programming languages such as Java or Python, Piscini said. But that's by no means a prerequisite.

"More universities are starting curricula and the natural cycle to graduate enough students will produce good volumes in the next few years," Piscini said. "We collaborate with universities around the world to develop content and hire the best talent.

"Several accredited U.S. universities now offer courses on blockchain, such as MIT, which has offered two courses on cryptocurrency engineering and design, and Stanford University, which has a course called Bitcoin Engineering that teaches developers how to create bitcoin-enabled applications.

There are also specialty schools, such as Mountain View, Calif.-based Blockchain University and London-based education startup B9lab, which launched an online Certified Ethereum Developer Training program in 2016.

"We've been running this and other courses for over two years now and have trained 1,000 people from over 75 countries," said Elias Haase, founder of B9lab.The most successful students in B9lab's courses tend to have sysadmin experience and have worked with Javascript before, Hasse said.

But "with the right amount of focus, we've seen people from different backgrounds do really well."Our youngest student was 14, the oldest 76. So we've seen a pretty broad variety of developers," he said.

Currently, the easiest and fastest way to become proficient is to learn on your own or attend programs organized by blockchain vendors and industry groups, such as Consensys, Blockapps, the Ethereum Foundation and Hyperledger.



Senior Reporter Lucas Mearian covers financial services IT (including blockchain), healthcare IT and enterprise mobile issues (including mobility management, security, hardware and apps).