Grayscale investors and a few Ethereum whales have reportedly been accumulating more Bitcoin and Ethereum as the price is at yearly lows.
GRAYSCALE HAS 1%  OF BITCOIN CIRCULATING SUPPLY
While 2018 continues to be a challenging year for cryptocurrencies, some big-money players are taking advantage of lower prices to increase their virtual currency holdings.
According to Diar, Grayscale Bitcoin Investment Trust (GBTC) now holds over 200,000 BTC for its institutional investor clientele.

With 17.4 million BTC currently in circulation, this means that Grayscale's Bitcoin investors now own about one percent of the circulating supply. The figure also puts Grayscale at the top of the institutional BTC investment arena.

Despite the year-long bear market, it appears that the firm established by Digital Currency Group (DCG) in 2013 continues to add to its BTC position on a monthly basis. GBTC earns a two percent annual fee on investor holdings, so it makes sense to see the company helping investors double down on their BTC holdings.


Another aspect to increased BTC stakes might come from the fact that GBTC trades at a premium. According to the company's website, it charges a 22 percent premium on Bitcoin over the cryptocurrency's market BTC price 

$3781.94 

+0.07%.
While Grayscale's BTC ownership rises, the opposite is the case for the value of the Trust's asset under management (AUM).


The firm's AUM now stands at about $826 million, its lowest point in 2018.
Apart from Grayscale, other institutional investors also seem to be expanding their BTC stakes. Back in mid-November when the first wave of price drops occurred, Mati Greenspan reported that eToro clients marginally increased their holdings.
View image on Twitter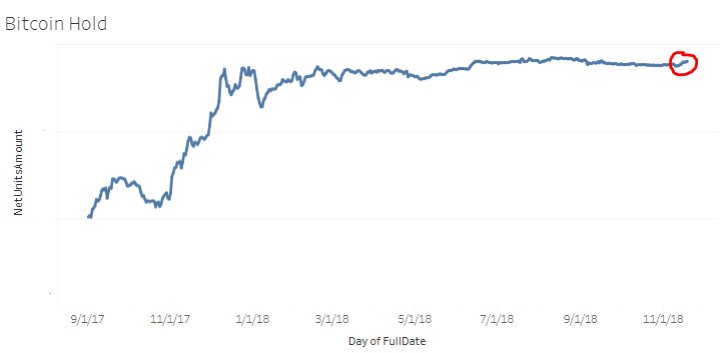 Mati Greenspan@MatiGreenspan

Clients @etoro have used this crypto price drop to increase their BTC stacks.

The red circle shows a small yet clear uptick in client holdings since November 14th.1402:00 PM - Nov 19, 2018
44 people are talking about this
Twitter Ads info and privacy
ETHEREUM WHALES ARE BUYING TO HODL
The accumulation of major cryptocurrencies isn't only limited to Bitcoin, however. According to Diaralso, Ethereum whales, i.e. big money investors with low-time preference, have acquired more Ether in 2018 than any other year in the cryptocurrency's history.

Like in the case of GBTC, these investors own a significant portion of the total circulating supply of Ether, about 20 million ETH  or 20 percent of the total ETH in circulation.This figure represents a 300 percent increase in ETH whale holdings since the start of 2017.
The prevailing consensus at the moment is the start of a period of accumulation and big-money players exiting from altcoin/ETH trading pairs.
Why do you think big-money investors are acquiring more Bitcoin during a bear market? Let us know your thoughts in the comment section below.