The European Commission has unveiled an 'Action Plan' on how to harness the opportunities presented by technology-enabled innovation in financial services (FinTech).
Its wishes Europe to become a global hub for FinTech, with EU businesses and investors able to make most of the advantages offered by the Single Market (an objective not made easier by its largest financial hub, London, leaving in 2019).As a first deliverable, the Commission puts forward new rules to 'help' crowdfunding platforms grow across the EU's single market.
The Action Plan seeks to enable the financial sector to make use of the rapid advances in new technologies, particularly blockchain, artificial intelligence and cloud services.
At the same time, it wants to make markets both safer and easier to access for new players to benefit consumers, investors, banks and new market players alike. In addition, the Commission proposes a pan-European label for platforms, so that a platform licensed in one country can operate across the EU.
"The Action Plan is part of the Commission's efforts to build a Capital Markets Union (CMU) and a true single market for consumer financial services. It is also part of its drive to create a Digital Single Market.
The Commission aims to make EU rules more future-oriented and aligned with the rapid advance of technological development."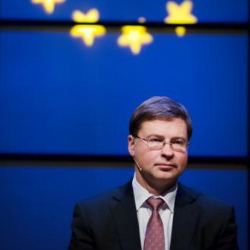 Valdis Dombrovskis
Valdis Dombrovskis, Vice-President responsible for Financial Stability, Financial Services and Capital Markets Union, said: "To compete globally, Europe's innovative companies need access to capital, space to experiment and scale to grow.

This is the premise for our FinTech Action Plan. An EU crowdfunding licence would help crowdfunding platforms scale up in Europe. It will help them match investors and companies from all over the EU, giving more opportunities for firms and entrepreneurs to pitch their ideas to a wider base of funders."


The FinTech Action Plan
To the EU Commission the financial sector is the largest user of digital technologies and is a major driver in the digital transformation of the economy. Its Action Plan sets out 23 steps to:
enable innovative business models to scale up
support the uptake of new technologies
increase cybersecurity and the integrity of the financial system.
This will involve the Commission hosting an EU FinTech Laboratory. In this European and national authorities can engage with tech providers in a neutral, non-commercial space.There will also be the EU Blockchain Observatory and Forum which:
will report, in 2018, on the challenges and opportunities of crypto assets
work on a comprehensive strategy for distributed ledger technology and blockchain that will address their relevance to all sectors of the EU economy.
The Commission asserts that it will consult on how best to promote the digitisation of information published by listed companies in Europe. This will consider how participants might use innovative technologies to interconnect national databases, thereby providing investors with easier access to key information to inform investment decisions.
The Commission says it will run workshops to improve information-sharing when it comes to cybersecurity.
Associated with this, the Commission will present a blueprint with best practices on regulatory sandboxes, based on guidance from European Supervisory Authorities. (A regulatory sandbox is a framework set up by regulators that allows FinTech startups and other innovators to conduct live experiments in a controlled environment, under a regulator's supervision.
Regulatory sandboxes are gaining popularity, mostly in developed financial markets.)
EU Blockchain Observatory and Forum
The Blockchain Observatory and Forum intends to:
highlight developments of blockchain technology
promote European 'actors'
reinforce European engagement with multiple stakeholders involved in blockchain activities.
European innovators and entrepreneurs already offer blockchain-based solutions. Traditional industry sectors – like banks, insurance companies, stock exchanges, logistics and others – already invest in pilot projects. At the same time, individual EU member states are announcing their own initiatives to reinforce exploitation of blockchain technology.
In this context, the European Commission plans to build on these existing initiatives.
One imperative is ensuring they (blockchain initiatives) can work across borders. This means consolidating expertise and addressing the challenges created by blockchains – such as disintermediation, trust, security and traceability by design.The EU Blockchain Observatory and Forum will:
gather information
monitor and analyse trends
address challenges
explore blockchains' socioeconomic potential.
It hopes to facilitate cross border cooperation on practical use cases as well bring Europe's best experts together to promoting an open forum for:
blockchain technologists
innovators
citizens
industry stakeholders
public authorities
regulators and supervisors.
The Commission has selected ConsenSys as its partner to support the Observatory's outreach in Europe. As a participant in the blockchain community, the EU envisages ConsenSys bringing a strong commitment to blockchain development, solid expertise and connections with the global blockchain ecosystem, as well as an entrepreneurial approach to engage with stakeholders and experts in the EU and worldwide.
(Selection followed a call for tenders launched last year. ConsenSys will work in close cooperation with Commission services to run the EU Observatory and Forum, after having signed the contract on 29 January 2018.)
Regulation on crowdfunding:
To the Commission, crowdfunding improves access to funding especially for start-ups and other small businesses. A start-up can present a project on an online platform and seek support in the form of a loan ('peer-to-peer lending') or equity participation.
At present it is difficult for platforms to expand across EU countries.
The Commission views this as an explanation of the underdeveloped nature of crowdfunding in the EU compared to elsewhere. The lack of common rules across the EU is a hurdle which:
raises compliance and operational costs
prevents crowdfunding platforms from expanding across borders.
The Commission's proposal will make it easier for platforms to offer services EU-wide and improve business access to this form of finance. If adopted by the European Parliament and the Council, the proposed Regulation will "allow platforms to apply for an EU label based on a single set of rules. This will enable them to offer their services across the EU."
Investors on crowdfunding platforms will be protected by:
clear rules on information disclosures
rules on governance and risk management
a coherent approach to supervision.


What does this mean
The mid-term review of the CMU Action Plan of June 2017 stressed the potential of FinTech to transform capital markets by:
introducing new market players and more efficient solutions
increasing competition
lowering costs for businesses and investors.
It announced  the Commission would establish a comprehensive approach to enable FinTech and deepen and broaden EU capital markets by integrating the potential of digitisation. This Action Plan represents the next stage.As is common with EU Commission initiatives, the words are many and the timescales long – possibly too long for the fast moving FinTech environment.
The crowdfunding Regulation is welcome. Indeed, this alone may accelerate pan-European FinTech involvement – but only if the rules listed above arrive promptly.
The EU Blockchain Observatory and Forum sounds positive. It can be, but only if it does not fall victim to becoming a talking shop only.

EU Commission Action Plans sound great. They only deliver if there is action, which is not always the case. Enterprises should monitor, and even participate with care. The EU can suck much energy out of its contributors.

https://www.enterprisetimes.co.uk/2018/03/14/eu-commission-extend-eu-blockchain-and-crowdfunding-act...