While several countries have sought to stomp out crypto-innovation, and others have tried to accomplish rule making by enforcement action, France appears to be ready to embrace the cryptocurrency revolution.

According to a report in Les Echos, the most prominent business publication in France, legislators are moving rapidly to create an environment that will allow initial coin offerings (ICOs) to flourish – not whither and die. Paris wants to become the most attractive financial center for ICOs.

This is an interesting move by the Gallic nation. Europe is in the midst of a jarring Brexit divorce. London has always been the financial center for the continent but with the legal separation imminent, Paris is polishing its financial innovation chops.
The report states:
Bercy (or the Ministry for the Economy and Finance) wants innovative regulation, which favors the development of these fundraisers of a new kind, while protecting the investor. 
"Our goal is to provide legal certainty for those who seek it, without hindering those who want to follow their own path. 
We have a rather liberal approach. We work for a flexible, non-dissuasive framework. At the same time, we are not naive either, we know that these
products can be risky,"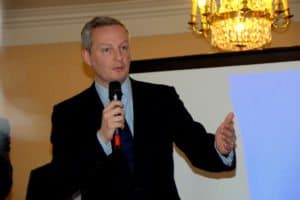 Bruno Le Maire, the Minister of the Economy, has apparently hired Jean-Pierre Landau, a former deputy governor of the Banque de France, to determine the specific approach to facilitating ICOs in France. New rules could be established as soon as April.

The system could allow ICO issuers to approach the regulator (AMF or Autorite des Marches Financiers) for a Visa to raise capital via a token offering. The AMF approval will provide a type of seal of approval for investors.
Additionally, ICOs that do not seek an AMF Visa will still be allowed.  Apparently, France has already attracted some ICO issuers as word has gotten out that France is crypto-friendly.
The irony here is the fact that countries like the US, typically known for embracing entrepreneurship, has fallen short in embracing this type of Fintech innovation.
Fears of investor protection issues combined with a general lack of understanding, and a knee-jerk reaction to depend on rules established before the internet existed, may harm innovation in financial services.
Issuers and support companies in the cryptocurrency space will inevitably vote with their feet and seek out jurisdictions that take an enlightened approach to facilitating change.

If France is successful in creating a regulatory regime that is effective, the country could experience a crypto-revolution of sorts. This is a story to watch.


There is an event in Paris on March 27th organized by the Ministry regarding Blockchain that may be of interest. It is entitled, "Blockchain: what opportunities for the economic and financial sphere?"